It is no secret that I like good beer, so it should be no surprise that one of my favorite weekends of the year is the Delaware Saengerbund Oktoberfest in Newark, Delaware. Every year we go down to Newark to participate in what is one of the most fun weekends of the year. Every year we enjoy some good German food, some even more amazing German beer and then a little dancing along the way.
The Delaware Saengerbund Oktoberfest brings people from near and far together for a great time. This year was no exception as we were able to attend with a bunch of our friends, including one of my girls who was up from Washington D.C. for the weekend!! We enjoyed a bunch of Paulaner Oktoberfest (my FAVORITE Oktoberfest beer of ALL TIME) and just overall had some great times together!
Some of my work friends at Oktoberfest... would not have survived as long as I have at my job without these ladies
Reunited and it feels so good!! Don't think all of us have been together since my wedding last year!
Bartending buddies
O3
Hubby & I having fun at Oktoberfest
This weekend was not just all about Oktoberfest... I also had my Chi Omega Book club meeting on Saturday afternoon where we met at McKenzie's Brewhouse to discuss the book The Fault in Our Stars by John Green. I had such a great time meeting up with some fabulous Chi Omega ladies and stay tuned for a book review coming soon!
Then on Sunday M and I attended the Chester County Restaurant Festival. Unfortunately I forgot to take pictures while we were there, but we had a blast walking up and down the street sampling some of the various foods the restaurants of West Chester had to offer!
Today I am linking up with Biana at
B Loved Boston
and Meghan at
Champagnes and Suburbs
for their "Weekending" link up! Head on over and check out both their lovely blogs and see what everyone has been up to this past weekend!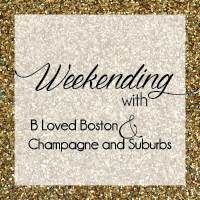 What did you do this weekend?